KOTOR is the first game in the KOTOR series, set 4000 years before the events of Episode IV, the game sets you as a Republic soldier seeking to destroy an evil Sith Lord known as Darth Malak before he and his fleet can conquer the galaxy.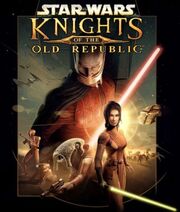 Character Information
Edit
Other Characters
Edit
Gameplay Information
Edit
World Information
Edit
Miscellaneous
Edit
Ad blocker interference detected!
Wikia is a free-to-use site that makes money from advertising. We have a modified experience for viewers using ad blockers

Wikia is not accessible if you've made further modifications. Remove the custom ad blocker rule(s) and the page will load as expected.